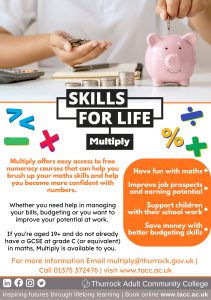 If you are a family and finding it difficult to make your money go further; a couple, both working and struggling to make ends meet; looking for a job or would like to change you career and need to upskill your numeracy skills; or if you would like to support your children with their maths, Thurrock Adult Community College (TACC) can help.
TACC's free courses are available to you through a new initiative called Multiply. There are a range of 5 and 12 week courses available to support you to develop your numeracy skills.
If you feel uneasy when thinking about numbers, you're not alone!  The good news is there's no such thing as someone who 'can do maths' and someone who can't.  It is learning in the right way for you that will help you get a job, get on in your career, save and budget better and help the kids – and you don't need to become a maths expert.
Feeling confident with numbers helps in every aspect of life, from measuring building materials or mixing hair dye, to checking invoices, setting up a business and paying your household bills – with the cost of living rising, maybe now is the right time to learn how to get on with numbers.
So, if you're one of the 49% of adults that are underconfident when it comes to anything about maths, you'll be able to get the support you need in the way you need it from the free Multiply programme. From flexible online courses to one-to-one mentoring, learn how you want, when you want.
The Multiply courses at TACC will build on what you know and take your skills further. For more information and to register for a free course, contact multiply@thurrock.gov.uk or visit www.tacc.ac.uk for more information.